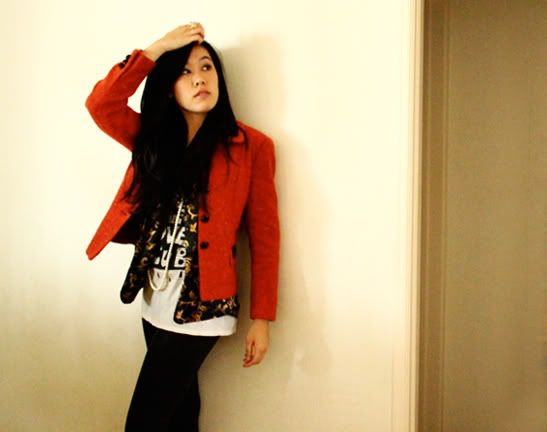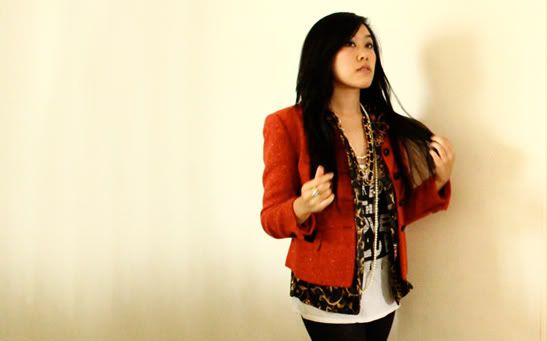 Sherry wearing Ann Taylor wool jacket, grandma's shirt, Urban Outfitters tank top, Aldo tights, Forever 21 pearls, gold chained necklace from random boutique in San Diego
This jacket is from my grandma! I love this bold orange color. There's a nice tweed-ish sheen to it (if that made any sense!). and...it's got shoulder pads! I'm not a huge fan of jackets and clothes with shoulder pads since I'm naturally broad shouldered (Jennifer can wear them though since she's way smaller than me). I was wondering what everyone else's thoughts were on shoulder pads.
Do you like wearing jackets/tops with shoulder pads?
Do you think shoulder pads make an outfit look better/worse?
Have a wonderful next few days! I'll be working on putting more stuff on my
blog shop
and
Ebay
. I'm slightly addicted to Ebay. Oh, and I'm thinking about starting a
YouTube channel
for this blog since it's sometimes a lot easier for me to sit in front of a camera talking about fashion than writing and boring everyone. and I'll be able to hold up cool stuff to show you! haha. ok, I'm boring myself.
possible next post topic: Beginners guide on how to get into the mainstream magazine industry! How you can work for Glamour, Nylon, Marie Claire, Elle, Vogue etc. etc. (let me know if this interests you or if it's totally boring and you don't wanna hear about it!)