Item in Question: Free People Cable Swing Cardigan
Hello all! This is Jenni (Sherry's sister) and today's post will be by Me! Fall is rolling in and I have found the perfect cardigan to transition my summer clothing into a new season! With a fabulous uneven hem and interesting placement of buttons, this cardigan also looks like a fusion of three different grey sweaters slammed into one (in a good way of course). All this creates the perfect recipe for a cardigan that knows how to enhance any outfit rather than the other way around!
H&M Necklace; Truly, Madly, Deeply Tank; Talbots Skirt; H&M Boots
I could just stand there and be pretty but this skirt has a lot of spinning potential and spin I did!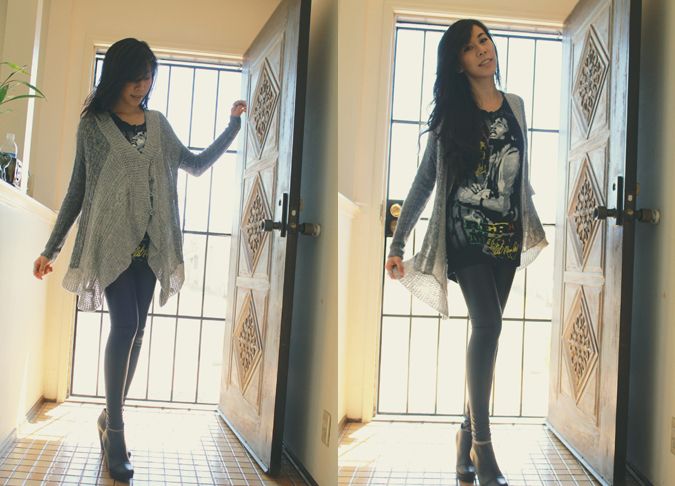 Hot Topic T-Shirt customized to my own liking; Guess Wet Leggings; H&M Wedges
And now introducing the rocker side of me and I suspect it might be the same side that sorted me into Slytherin on the beta Harry potter website. Yes, I am one of those people. I love Harry Potter and have been following him since 8th grade. Wow, that was off topic! Lol! So back to the t-shirt I picked up from hot topic and slashed it to my liking. You can't see it now but I promise I will show you!
? Floppy Hat; H&M Top; Ann Taylor Pants; Style&Co Oxfords
Introducing my g-ma pants! My grandma did not want them but guess who did! I had no idea they were supposed to be dry cleaned so they shrunk but it ended up making it cooler with the little see trough fabric peeping out from under the paisley. Yay to fashionable mistakes!
Francesca's Collections Earrings; H&M Ring; ? Necklace; Zara Dress; H&M tights; H&M Boots
You know what's awesome? And yea, I do say awesome a lot and yea, it most likely is because I live in Southern California. Moving on! Super awesome would be wearing a going out night dress into a day dress! I mean let's face it, if you were a hermit loser like me then you probably don't go out at night enough to wear cute dresses like this. And I want to wear them! So voila! I can go to the park and walk my babies now.
H&M Boots; H&M Necklace; H&M Rings; Pins and Needles Lace Top; Levis High Waisted Shorts; Levis Leather Belt


This is probably my favorite of the bunch because this is an outfit I wore often this summer and I was so pleased to see that I can wear this into fall! Being a native San Diegan, I love my shorts and I love wearing them in the fall and winter too.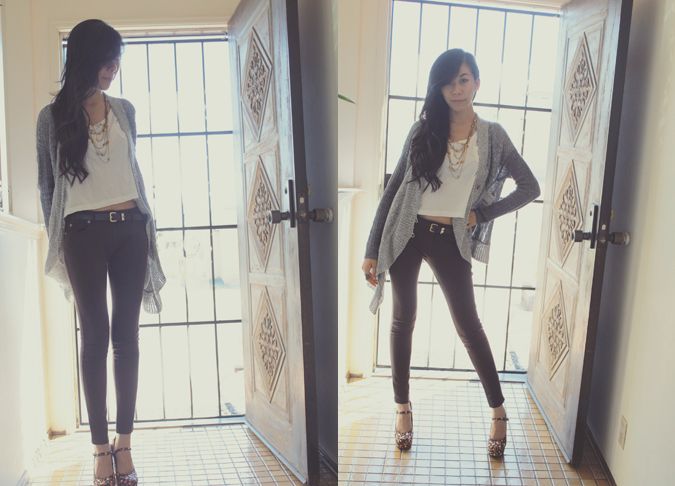 Aldo Necklace; Aldo Rings; H&M Cropped T-Shirt; Zara Brown Leggings; Forever21 Floral Mary Jane Heels; GAP Leather Belt
These are a pair of my comfy bottoms. They look like pants but they're actually a super stretchy legging so I can totally do the splits in them if I wanted! But that's assuming I'm flexible and I'm sad that I'm a far cry from ever doing the splits. Ever.